I'm in Chicago. As the time here is six hours behind the UK, I was able to see that Scotland had voted in favour of staying in the UK before going to bed last night.
The whole Scottish Independence Referendum Campaign has been frustrating for me. I was born in Scotland and lived there for most of my life. However because I currently live in Berwick upon Tweed, three miles south of the Anglo-Scottish border, I couldn't vote.
I would've voted for Scotland to stay in the UK. There were too many unanswered questions such as currency, border controls, EU membership, the size of oil reserves and the public spending deficit for me to vote for independence.
With Scottish independence, I had visions of having to allow twice as long to drive to Edinburgh Airport from Berwick upon Tweed in case there was a queue at border control on the A1 upon entering Scotland. I thought that I might need to get two passports, a Scottish and UK passport, to make crossing easier in both directions.
I thought that the infographic below from Sykes Cottages highlighting the geographical implications of a UK minus Scotland was fun. Fortunately, the UK won't lose these parts of its landscape.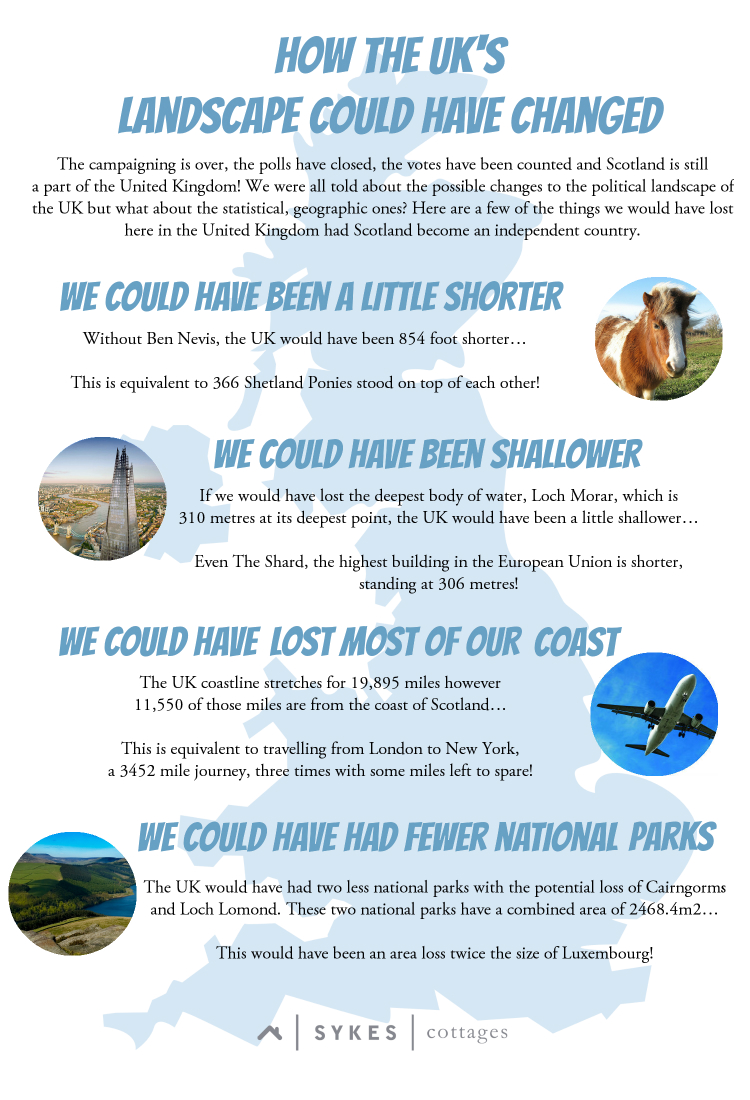 The Scottish Referendum: How The UK's Landscape Could Have Changed by Sykes Cottages
I laughed at the idea that, with the loss of Ben Nevis as its highest peak, the UK would've been 366 Shetland ponies lower.
Shetland pony and foal
I hadn't realised that more than half of the UK's coastline was in Scotland. The beaches in Scotland are some of most beautiful which I've seen in Europe. My favourite is St Ninian's in the Shetland Islands. You can see that I'm a big fan of the Shetlands.
St Ninian's Beach

Both  of the Scottish National Parks, Cairngorm and Loch Lomond, are really beautiful. You may even be able to do some skiing or snowboarding in the Cairngorm Mountains Resort if the weather plays ball.
Loch Lomond from Inveruglas
I recommend that you organise a trip to Scotland to enjoy its natural beauty. If you're travelling from another part of the UK, there'll be no concerns about border crossings and a different currency.