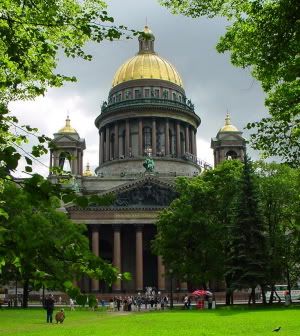 If you're wandering the main streets of St Petersburg, you won't be able to miss the city's largest cathedral: St Isaac's Cathedral or the Isaakievskiy Sobor. Architecture fans are sure to be impressed; I loved the granite columns, and it's obvious that it was built with the intention of looking impressive – it was intended to be the most important church of the Russian Empire when it was built in the early nineteenth century.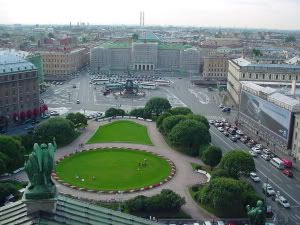 The best way to visit St Isaac's is to get there early (it opens at 10am in summer and 11am in winter) and climb the 300-odd steps to get up to the balcony around the top dome. Since St Petersburg is not a particularly "tall" city, this is high enough to get spectacular views over the Hermitage buildings along with the rest of the city. If I remember correctly, there was an extra fee for being allowed to take photographs (a common surcharge in Russia) but I was early and sneaky enough to get away with some snaps – but if you're more honest than me, pay up because you'll definitely want to take pictures while you're up there.
More St Petersburg Tips
We've more tips on what to do in St Petersburg.
Click here for lowest prices on St Petersburg hotels
Tips for Things to do in Russia
We've lots more travel tips for what to do in Russia.