I'm easily drawn to tourist attractions that are the biggest, longest, narrowest or best for some reason or another – so when a friend in Germany raved to me about Ulm's cathedral (known locally as the Ulmer Münster), I had to see it. It's recognised (at least by my friend, and by Wikipedia) as the tallest church in the world.
Unfortunately, that means that a visit to the gothic Ulm cathedral involves a bit of a climb: if you want to get to the top, which I thoroughly recommend, you have to climb up 768 stairs. From the top you can look down to the lovely city of Ulm, over the fairytale sight of red roofs and the Danube River, too. Interestingly, they hadn't planned to make it so tall when they started building it back in the fourteenth century; but when it finally neared completion about 500 years later, they decided to keep building it taller so it would beat the Cologne cathedral in height.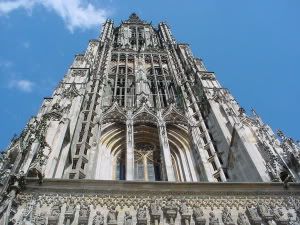 Ulm is actually worth visiting for more than its cathedral – it's in the south-west of Germany and has plenty of other attractions worth seeing. But I'm sure the best view you'll get is at the top of those 768 steps.
Tips for What to Do in Germany
We've lots of travel tips for what to do in Germany.