When I visited Helsinki, a friend who'd once lived there insisted that I visit Seurasaari – a large park area on an island just a few miles outside of Helsinki itself. This island is home to the Seurasaari Open Air Museum, a collection of old cottages and farmhouses from all over Finland, of various ages – it's intended to give you an overview of Finnish country life over the past three centuries. Whether or not you're especially interested in seeing these buildings, the setting itself is gorgeous and a good spot for a walk.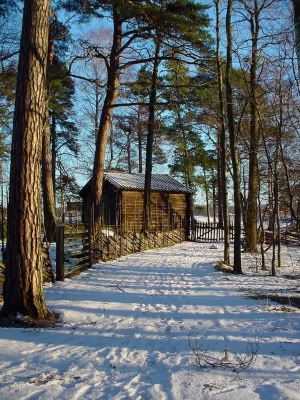 This year, the museum is celebrating its 100th anniversary so they have a few special events planned – still to come are a handicraft weekend (July 18-19), the Folk Music Week (August 3-9) and the Harvest Weekend (September 12) before the museum closes for the winter season. I'm not quite sure what they mean by close – I visited in winter, and could walk around for free, but perhaps some of the access was restricted.
In summer, the entrance fee is just 6 Euros (cheap for Finland!), or free if you have a Helsinki card, and the easiest way to get there is by bus from central Helsinki – the island is the last stop on the #24 bus, so it's not hard to find. I'm keen to get back there to see the summer version, although the snow-covered winter version I enjoyed was pretty impressive too.
More Helsinki Tips
There are more tips in our What to do in Helsinki post.
Click here for the lowest prices on Helsinki hotels
More on European Museums
Find out about more museums in Europe on Europe a la Carte.