I'm a huge fan of Berlin, and since I was lucky enough to be visiting there during the 1990 reunification celebrations, the Berlin Wall has a particularly soft spot in my heart. So when I heard that they were scrubbing it clean, I was more than a little surprised (and concerned!).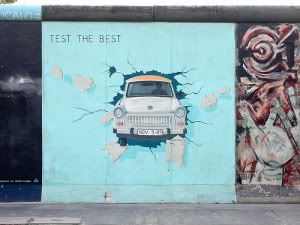 Image – sainz via CC
It turns out that, since this year is the 20th anniversary of the November 1989 fall of the wall, the Berliners have decided to get what's left of the wall touched up so that it will be better preserved for future generations. Apparently vandals, car fumes and natural wear and tear have all been damaging the wall. This project involves the 1,300 metres of the wall known as the East Side Gallery, where artists were invited to come and create their own street art masterpieces shortly after the wall fell.
About 60 artists have now been invited to Berlin to repaint their parts of the wall, after it's been cleaned and recoated. Apparently there have been a few disgruntled artists who wanted bigger fees or to paint something different, but on the whole, it seems like most are on board with the project. Once the wall has been fully renewed, there are plans for a grand reopening in November when the 20th anniversary celebrations hit their peak.
Best of Berlin Tips
Read our Best of Berlin tips to help plan your trip.
Click here for the lowest prices on Berlin hotels
Tips for What to Do in Germany
We've lots of travel tips for what to do in Germany.