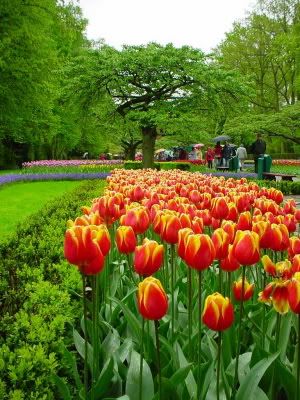 Every time spring starts there's one place that jumps out from my travel memories: the Keukenhof Gardens in the Netherlands. It's the ultimate place for tulip fanatics, and for some reason I've inherited an obsessive love of tulips from my mother.
A couple of springs ago I got myself organised to visit Keukenhof during their peak season, and they've just opened for the year again so you'd better get planning. For 2009 the season runs from March 19 (Queen Beatrix opened the park last week) until May 21 – obviously the season is similar every year. This year looks quite special though as it's the 60th anniversary.
The website makes the (somewhat outrageous-sounding) claim that Keukenhof is the "most photographed spot in the world", but as I look back through how many photos I took there, perhaps it's not such an unreasonable claim. The park is not enormous, but there are numerous different gardens and I remember turning every corner and finding flower arrangements that were even more beautiful than the last ones, hence the need for endless photos.
You make a day trip to Keukenhof from many parts of the Netherlands, including Amsterdam, but it's closest to the small town of Lisse. If possible, I think it's worth having a car while you're on a trip there, because there are also endless and vast fields of tulips flowering in the areas nearby, and I stopped to take even more photos there. Entry tickets cost €13.50 and considering you can easily spend the best part of a day there (especially if you take a picnic or eat there), and remembering that the park only really operates two months a year, it seems a reasonable price.