Berlin certainly got a big boost from German reunification and one of my favourite results there is the new dome on top of the German parliament, the Reichstag Dome. This glass dome literally sits on top of the parliament building (yes, above the politicians!) and not only is it an architectural marvel in itself, you can also get some gorgeous views over Berlin.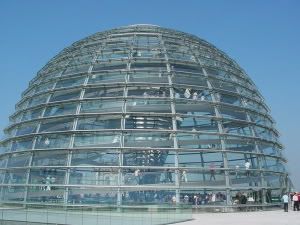 Even better, there is no charge to go up to the dome and to walk up its spiral pathway to the top of Berlin. If you go in summer, there are often some long queues – I've always managed to get there early in the day although in August, even an 8.30am arrival will see you waiting for a while – but it's worth it. The Reichstag Dome is open from eight until midnight although the last admission is at 10.00pm.
Best of Berlin Tips
Read our Best of Berlin tips to help plan your trip.
Click here for the lowest prices on Berlin hotels
Tips for What to Do in Germany
We've lots of travel tips for what to do in Germany.