Visitors to Germany often stop by Munich – especially around Oktoberfest time – but one of the most interesting places to visit is just outside – the Dachau Concentration Camp. I know some people tell me they don't want to visit a depressing place like this but I think it's an experience that is both interesting and educational and will probably be something you remember well beyond the drinks of a Munich beer hall. But of course, it's up to you!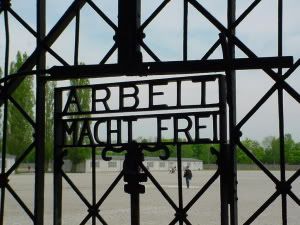 If you're keen to understand this terrible side of history a little better, then you can easily make a day trip to Dachau while you're in Munich. Public transport gets you there in under an hour. Dachau is small compared to camps like Poland's Auschwitz, but it's especially interesting because it's the "original" concentration camp, and served as a model for the rest.
It's a sombre place to visit, and you can see as little or as much as you want – the exhibitions can get a bit depressing, of course, and walking through the remaining buildings is not exactly fun. And to be honest, I had a sleepless night or two after exploring Dachau.
There is no entry cost for Dachau, and I recommend timing your visit to include the half-hour documentary (these days it screens in English at 11.30am, 2.00pm and 3.30pm) – and note that the entire site is closed on Mondays, unless it's a holiday.